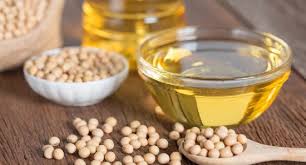 Soybean oil is a vegetable oil extracted from the seeds of the soybean (Glycine max). It is one of the most widely consumed cooking oils and the second most consumed vegetable oil.As a drying oil, processed soybean oil is also used as a base for printing inks (soy ink) and oil paints.
Composition
Palmitic : 10.0%
Stearic : 4%
Oleic : 23%
Alpha Linolenic : 7-10%
Linolenic : 51%
Commercial details:
Product: Refined Soyabean Oil.
Place of Origin: India.
Oil type: Vegetable edible Oil.
Payment: L/C, TT.
Minimum Order Quantity: 1 x 20' FCL / 12 MT
Delivery time:One month after receiving letter.
To enquire about the desired product(s), just check the box and then click "Enquiry Now" button which is provided below.
Specifications
COLOUR ON LOVIBOND SCALE IN 5=1/5 "CELL Y+5 R
8 to 13.0 Max (Unit)
FREE FATTY ACID CONTENT
0.10 Max (Oleic Acis)
INDINE VALUE
125 to 141
MOISTURE INSOLUBULE & VOLATILES
0.10 Max
PEROXIDE VALUE
2.0 Max
SAPONIFICATION VALUE
189 to 195
TASTE
Negative