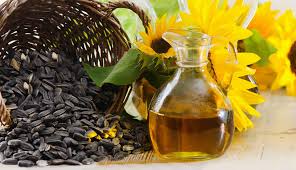 Physical Properties
Sunflower oil is liquid at room temperature. The refined oil is clear and slightly amber-colored with a slightly fatty odour
Composition
Palmitic acid (saturated): 5%

Stearic acid (saturated): 6%

Oleic acid (monounsaturated omega-9): 30%

Linoleic acid (polyunsaturated omega-6): 59

Commercial details:
Product: Refined Sunflower Oil.
Place of Origin: India.
Oil type: Vegetable edible Oil.
Payment: L/C, TT.
Minimum Order Quantity: 1 x 20' FCL / 12 MT
Delivery time:One month after receiving letter.
To enquire about the desired product(s), just check the box and then click "Enquiry Now" button which is provided below.
Specifications
COLOUR ON LOVIBOND SCALE IN 5=1/5 "CELL Y+5 R
12.0 Max (Unit)
FREE FATTY ACID CONTENT
0.10 Max (Oleic Acis)
INDINE VALUE
100 to 145
MOISTURE INSOLUBULE & VOLATILES
0.10 Max
PEROXIDE VALUE
2.0 Max
SAPONIFICATION VALUE
188 to 194
SPECIFIC GRAVITY AT 30 degree C
0.912 to 0.920
TASTE
Negative
ODOUR
Bland